23 Sep 2011
Skillbuild winners announced...
---
Stone Federation was represented at the Skillbuild final on 16th September held at the Leeds College of Building when Jane, the Chief Executive, presented the prizes to the stonemasonry winners. Congratulations are given to all those winners shown on the right. Mention should also be made of the other competitors who qualified to take part especially Michael McCaffrey who was the first finalist from Scotland.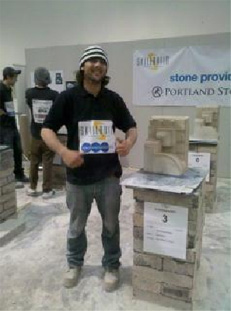 Competitors in the Stonemasonry competition:
Thomas Whitehead of Weymouth College and Albion Stone Plc

Rupert Davies of Building Crafts College

David Bean of City of Bath College and Farleigh Masonry Ltd

Edward Shaw of Weymouth College and CWO Ltd

Ian Chalmers of Weymouth College

Levi Bavaster of Moulton College

Michael McCaffrey of Elgin Training Unit and Elgin Stonemasonry

Jonny Rayfield of Moulton College
 
 
 
 GOLD: David Bean
 SILVER: Rupert Davis

BRONZE:

Thomas Whitehead 

 
 
 
Stone Federation Chief Executive Jane Buxey presenting the prizes alongside Judy Lowe, Deputy Chairman of Construction Skills.