UK's Favourite Natural Stone Project
Stone Federation are delighted to announce that Pier Head, Liverpool has won the 'UK's Favourite Natural Stone Project' vote run by the Federation.
The 'people's choice' vote was part of the 20th Natural Stone Awards celebrations are sought to showcase the significant part that natural stone plays in defining the architectural identity of towns and cities across the United Kingdom.
The shortlisted projects were drawn up from a longlist created from nominations by Stone Federation members and included natural stone projects from across the length and breadth of the United Kingdom.  Castles, cathedrals, modern office developments, Government buildings and public realm spaces were all featured in the shortlist.
The public vote engaged 100s from within the architectural and construction sectors, and 33% of the votes, Liverpool's Pier Head Canal Link project was chosen as the winner.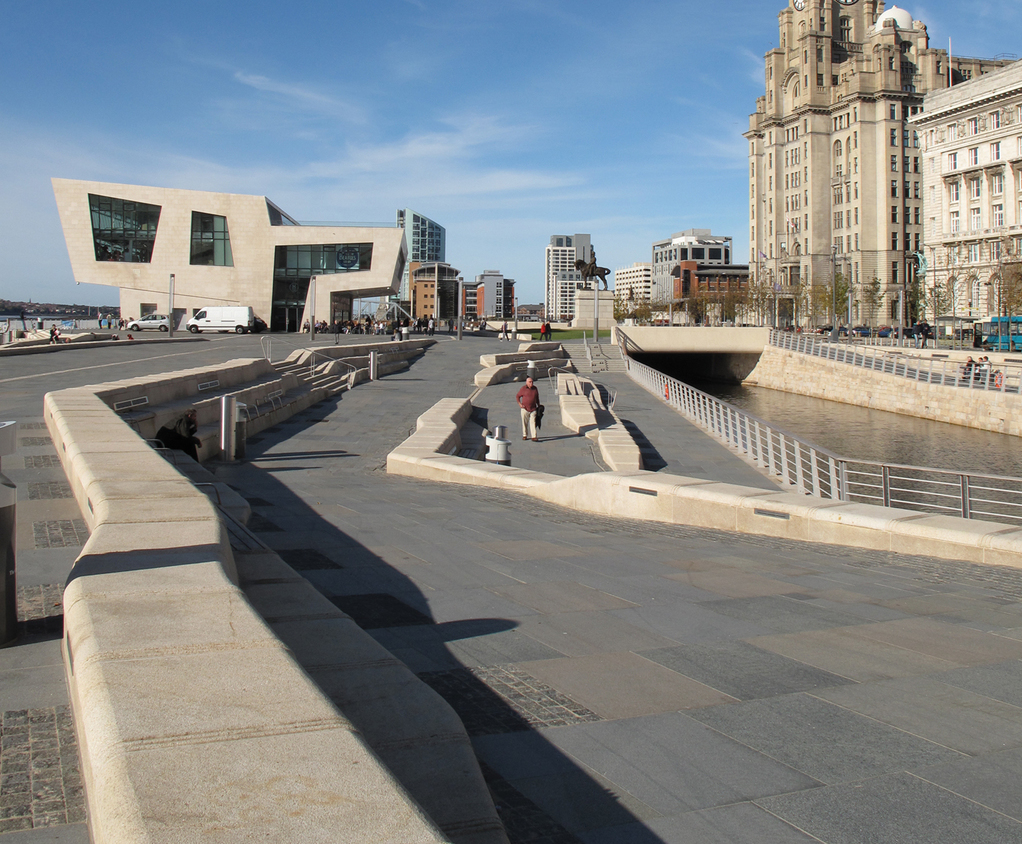 The project was the winner of the Landscape category at the 2010 Natural Stone Awards and involved the extension of the Leeds Liverpool Canal into the heart of Liverpool with a reconfiguration of the Pier Head to form a truly world-class space worthy of its historic location at the heart of this World Heritage Site.
Delivered for Liverpool City Council by EDAW Landscape Architects, the project's main contractor and principal stone contractor was Balfour Beatty with input from TT Groundworks, Stone Central (NW) Ltd and Marshalls PLC who also supplied the natural stone.
Over 7,000m² of mid-grey varied tone granite paving was used to create space along with 22 unique granite seats which weighed up to 1,500kg.
Stone Federation's Chief Executive, Jane Buxey said,
"It is fantastic to see a scheme such as this recognised in this way.  The aim of this vote was to give people a chance to celebrate their favourite natural stone project and to showcase the wonderful examples of excellence in stone we see across the United Kingdom.
It is a testament to the durability and longevity of this beautiful, natural material that a project delivered in 2009 is still capturing the public's interest and admiration over a decade later.  It is this longevity that is part of what makes natural stone such a sustainable material choice."
Dave Stanger, Minerals Trading Director at Marshalls said,
"We are thrilled to learn that the Pier Head has been voted as the UK Favourite natural stone project'. Such an enormous amount of work, detailing and collaboration went into the design, engineering, delivery and installation of this project; and for it to be recognised some 10 years later is just fantastic. From the engineering of the material designs to the physical inspection in China and through to the engagement on-site with Balfour Beatty in particular, this is a personal favourite and one that both I and all those involved I am sure will cherish for many years to come. To play a part in the changing face of an iconic landmark such as the Pier Head and for it still to be winning awards a decade later is incredible. Congratulations to all those involved at every stage!"