The end of April saw the Federation exhibiting alongside 25 members firms at the 2019 Natural Stone Show.  Held at London's Excel, the show gathered together architects, industry professionals and natural stone firms from the UK and overseas.
The Stone Federation member-exclusive 'Stone Village' was the hub of the event and featured companies covering all areas of the industry, from British and international stone suppliers through to sealant and cleaning product manufacturers, design consultants and fixing specialists.
With so much to report from the event, we've decided to pick our top five highlights (in no particular order) from the 2019 Natural Stone Show.
1.    Education, education, education.
The Stone Federation stand played host to a range of seminars throughout the event, each providing visitors with the chance to hear from some of the industry's experts about latest developments, initiatives and best practice.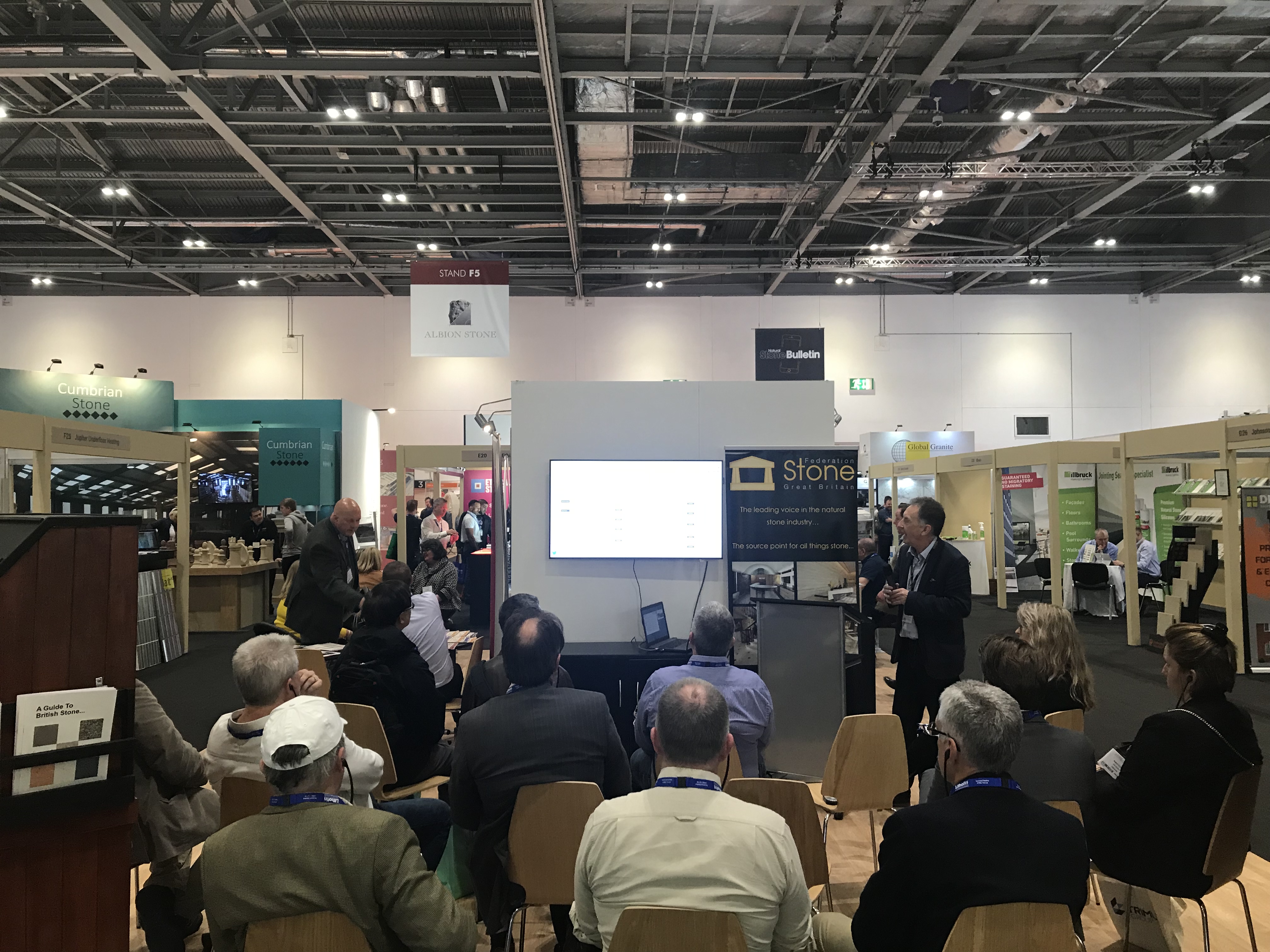 The topics included The Ethical Stone Register, an industry update from the Health & Safety Executive and a showcase of the Federation's new 'Natural Stone for Interiors' CPD'.  Feedback from attendees was incredibly positive and the conversations sparked by the seminars carried on in our coffee bar long after sessions had finished.
2.    Hot off the press
The Natural Stone Show was a fantastic opportunity to distribute three of our latest publications: The Natural Stone Source Book, 2018 Natural Stone Awards Brochure and the Stone Heritage Register.
Hundreds of architects, specifiers and industry professionals took the opportunity to update their natural stone resource library with the latest versions of these invaluable resources.
3.    Networking hub
The Stone Federation stand proved to be a networking hub for the show and our coffee bar provided an ideal space for members to connect with new and existing contacts.
The Natural Stone Show is always a fantastic opportunity to connect our members with one another and this year was no exception.
4.    2019 Members' Event & AGM
After the second day of the show, we held our 2019 Members' Event and AGM.  It was great to see so many members in attendance, taking advantage of the opportunity to keep their finger on the pulse of activity within the Federation and the wider natural stone industry.
Delegates heard from each of our sector forum Chairmen who explained what the groups had achieved over the past year and what was in the pipeline for the coming months.
5.   Presidential Handover   
The Members' Event played host to the handover of Stone Federation Presidency from Dr Tim Yates (BRE) to Marcus Paine (Hutton Stone Co).  It was a great opportunity to thank Tim for the investment of time and expertise during his Presidency and to welcome Marcus into his new role.