The 2012 Natural Stone Awards was a resounding success, with the magnificent Lord's Cricket Ground once again playing host to this, the biggest event in the Federation's calendar.
The day began with a tour around Britain's most famous cricket ground followed by a chance to catch up with old friends as well as make new contacts over a cup of tea or coffee. This opportunity to network was one of the most celebrated aspects of the day, and we look forward to seeing the fruit of these conversations in projects during 2013.
The awards themselves were extremely well attended with over 200 present for this bi-annual event. The event proceedings were once again compared by TV sports personality and stone enthusiast Jim Rosenthal with the National Lottery's Alan Dedicoat as the 'voice' of the event and Ground Force's Tommy Walsh also on hand to congratulate the project teams. Award winners and runners up were presented with certificates by TV personality, Charlie Luxton.
Charlie has fronted a wide range of construction based TV programs, including DIY SOS, Build a New Life in the Country, I Own Britain's Best Home and Brick by Brick: Rebuilding Britain. He is passionate about sustainability and architecture, two topics that featured heavily in his informative, engaging address to the Awards' audience.
Trophies for the category winners were generously provided by Burlington Stone, delivering an attractive, natural stone pyramid.
The awards were followed by a first-class three course meal served up by the staff at Lords. Conversation over lunch was lively with more highly beneficial industry connections being made, all helping bring fresh vigour and momentum to the industry.
A full list of the award winners and runners up can be seen below and the Souvenir Awards Brochure will also be available for download shortly.
To find out how to enter a project into the 2014 Natural Stone Awards, please don't hesitate to get in touch.
NATURAL STONE AWARDS 2012 – the WINNERS AND COMMENDATIONS
NEW BUILD MODERN STYLE STONE CLADDING
Award winner The Merchant Hotel, Belfast
Highly commended Sainsbury Laboratory, Cambridge
Commended 12 Upper St. Martin's Lane, London
Commended No 1 Bartholomew Lane, London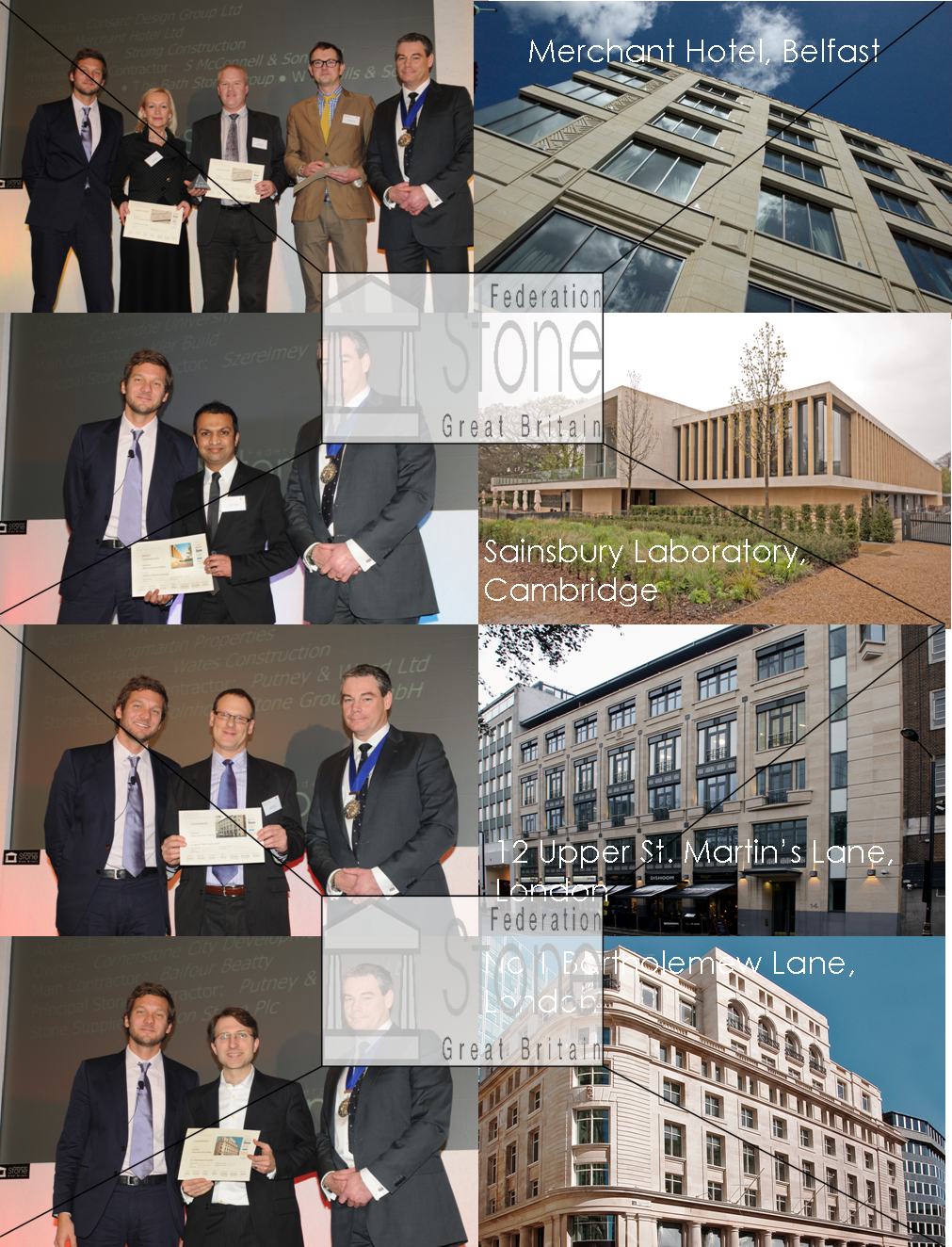 NEW BUILD TRADITIONAL STYLE STONE MASONRY
Award winner Rigg Beck, Cumbria, Private Residence
Highly commended The Mount, Shropshire, Private Residence
Highly commended New Bespoke Residential Property, Surrey
Highly Commended Water pavilion, Cornwall
Commended Westfield Folkhouse, Nottinghamshire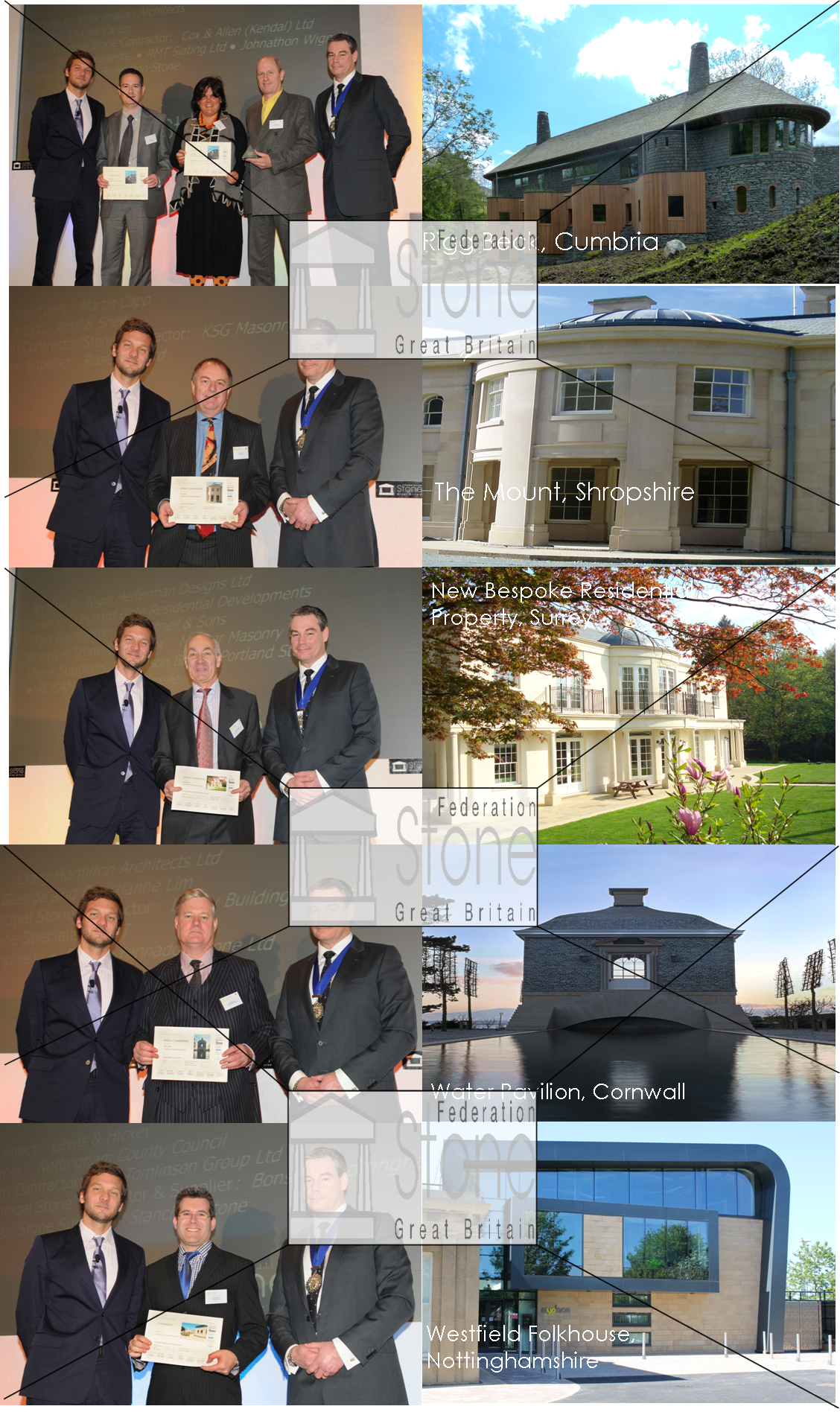 REPAIR AND RESTORATION
Award winner Restoration of the East Elevation of the Quadrangle at Buckingham Palace
Highly commended Dunderave Castle, Argyll
Highly commended St Nicholas, Peper Harow – restoration after major fire damage
Commended Willimoteswick Castle Farm, Bardon Mill
Commended Christ Church College, Deanery & Treasury, Oxford
Commended Holy Trinity Church, Banbridge
Commended Church House and Fisherwick Buildings, Belfast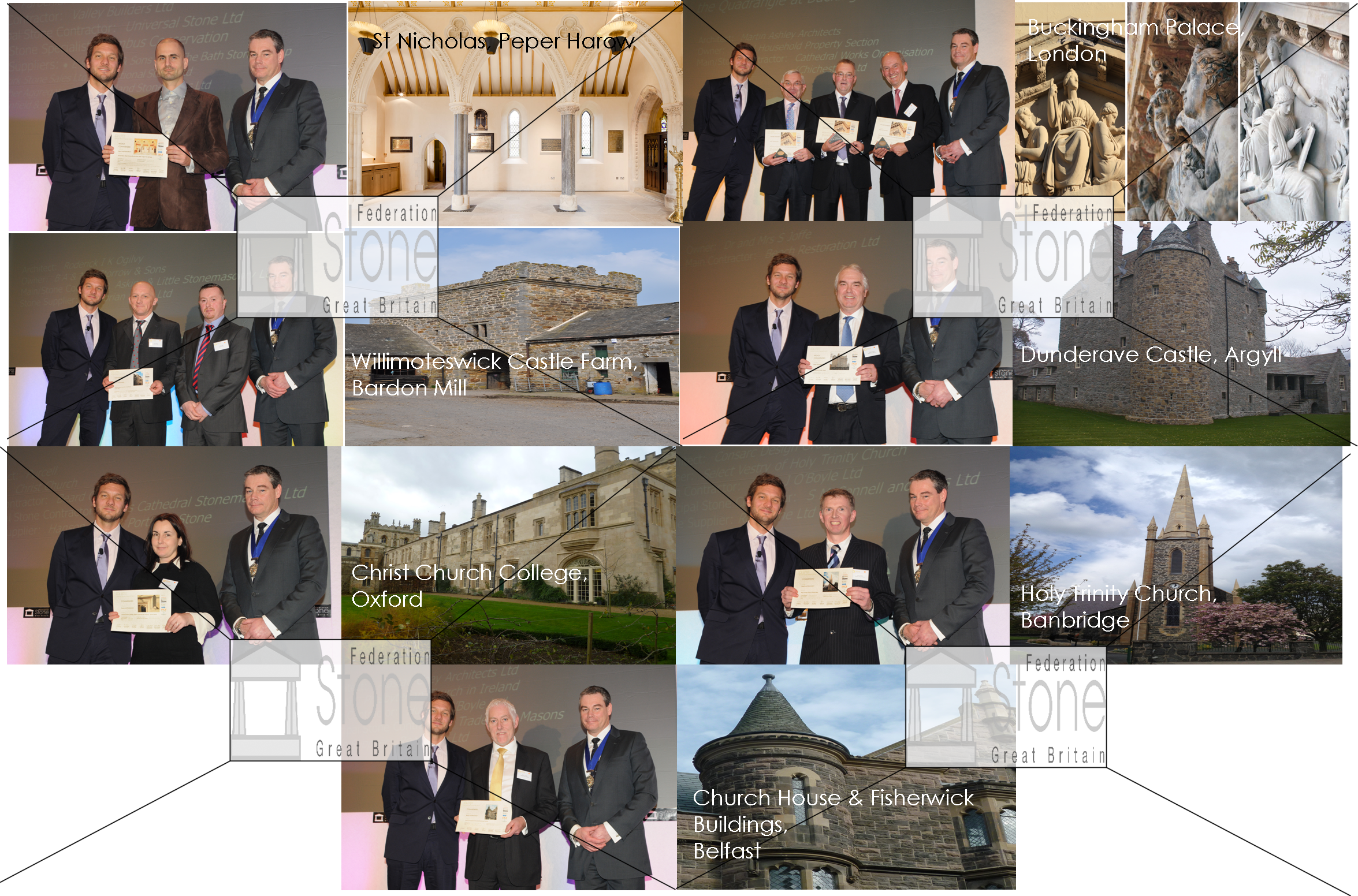 INTERIORS
Award winner Williamstrip Park Extension and Bath House, Gloucestershire
Highly commended Staircase at the Red House
Commended St John's Church, Hyde Park, London
Commended Staircase, Private Dwelling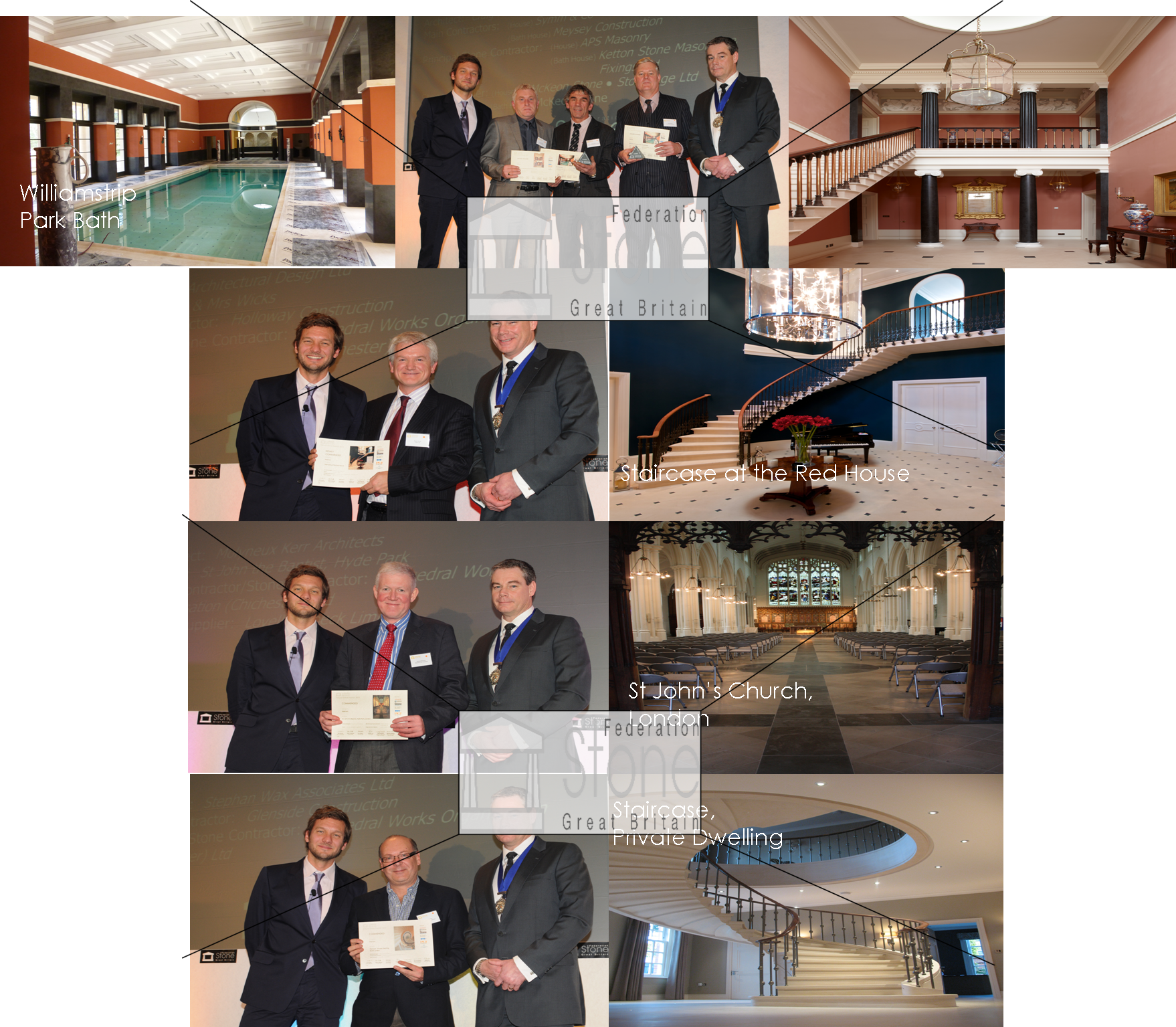 LANDSCAPE
Award winner MoreLondon
Highly commended Tudor Square, Sheffield
Commended Exhibition Road Streetscape, South Kensington, London
Commended Elizabeth Street Public Realm, London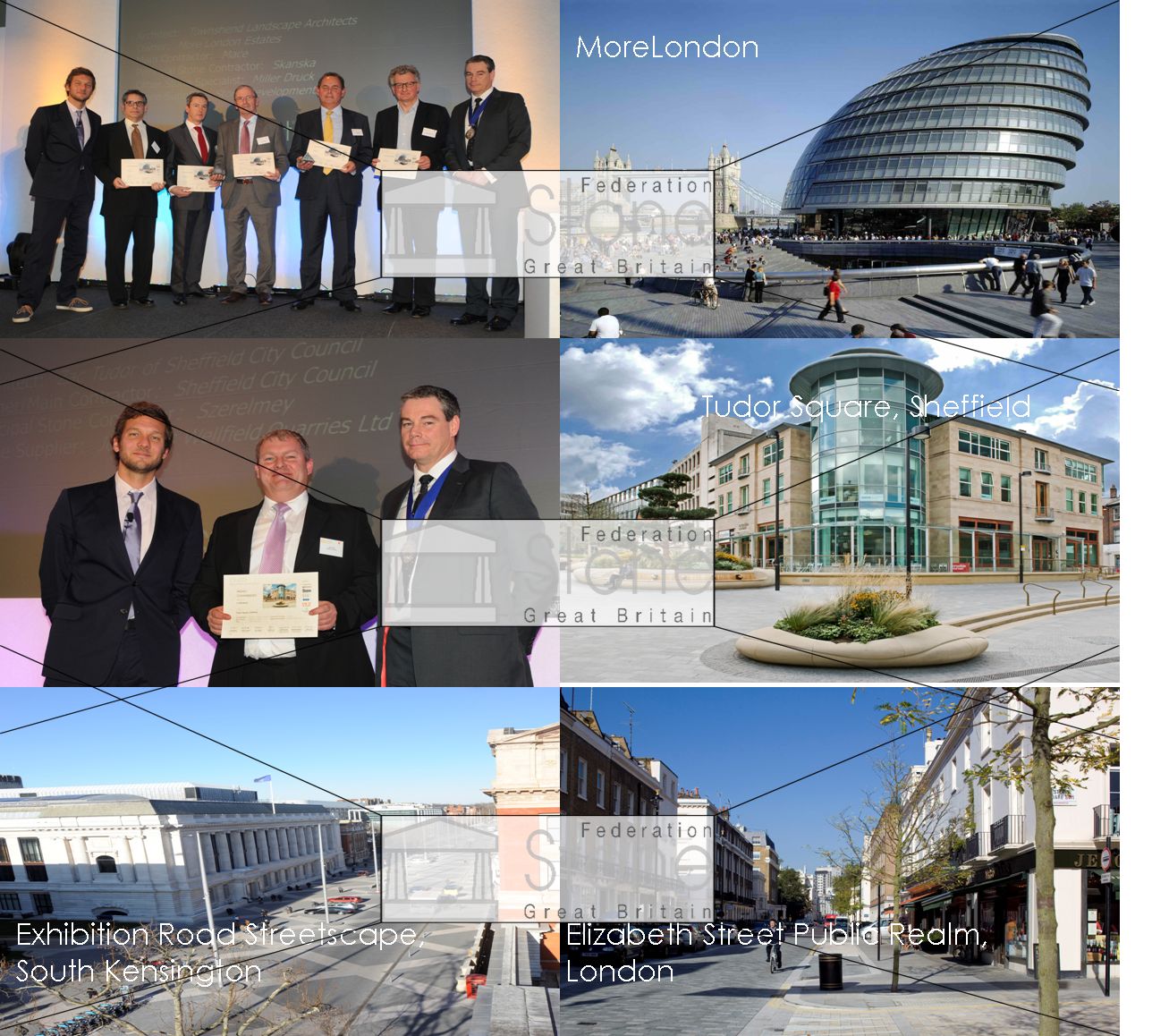 CRAFTSMANSHIP
Award winner South Quire Buttress, Turret & Spirelet on the East Front of York Minster
Highly commended Replacement of WWI Memorial following vandalism, Cheltenham
Commended The Apple Tree, Hereford Cathedral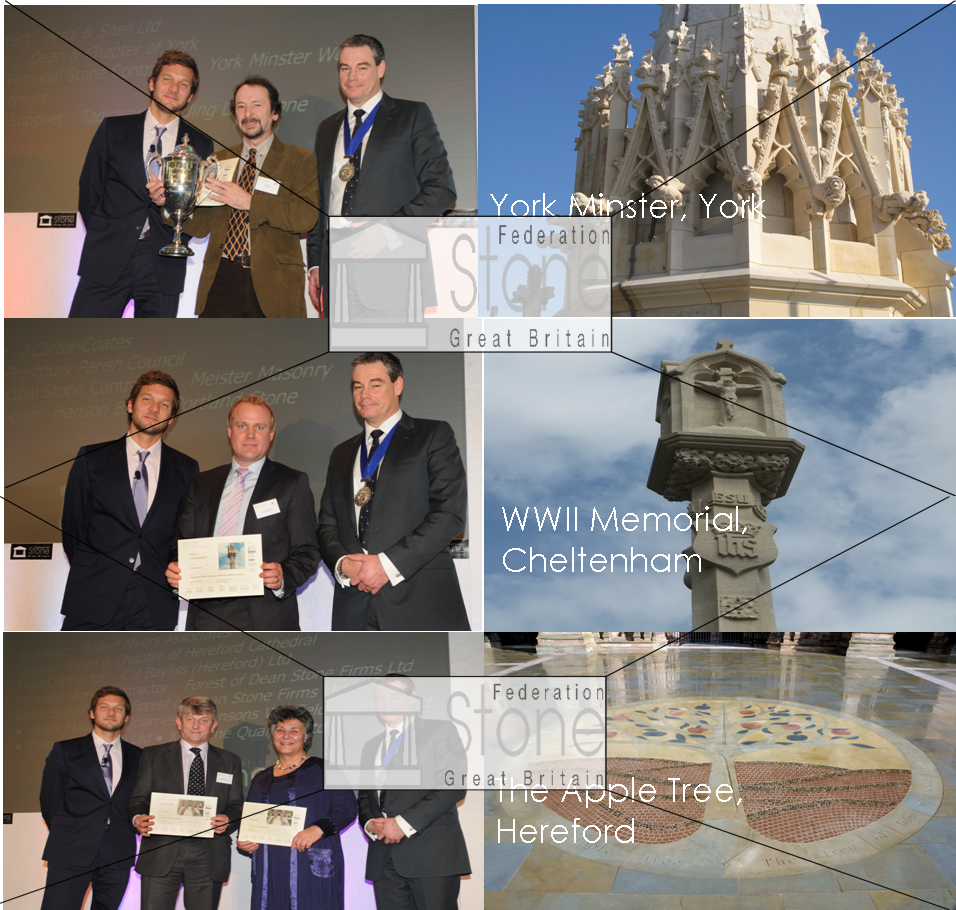 ART IN STONE
Green Park Underground Station, London