Stone Federation was pleased to be involved with one of the most talked about gardens at the Hampton Court Palace Flower Show in July 2006 which was unveiled by Sir Stirling Moss.  The Senses Stimulated garden was themed around romance and was designed by stars of Ground Force, Tommy Walsh and Kirsty King, to support the pioneering SortED in 10 campaign.  This campaign is spearheaded by Sir Stirling Moss, sponsored by Bayer Healthcare and aims to raise awareness of erectile dysfunction and the taboos surrounding this and to get partners involved to seek treatment.
The garden's aim was to get people to rekindle their feelings of romance and it was the first time that Tommy and Kirsty had exhibited at Hampton Court.
As Tommy wanted to use indigenous natural materials in the garden, he asked Jane Buxey at Stone Federation to help him source the stone.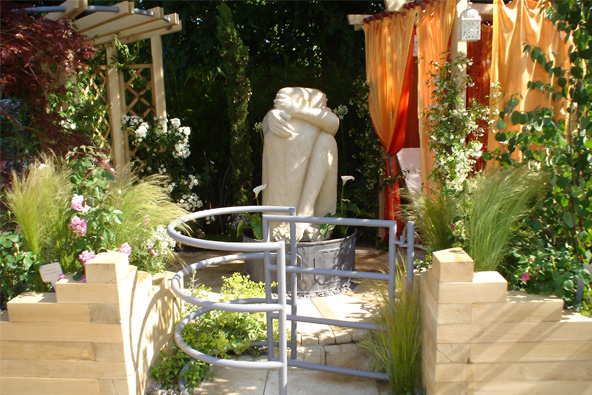 The centre piece of the garden was a hand-carved sculpture of an embracing couple which was carved by Nina Bilby from the Building Crafts College and was Portland Bowers Basebed supplied by Albion Stone Plc. Thanks are given to Stone Productions for delivering this to site. Albion Stone also provided the paving which is Portland Grove Whitbed whilst the setts were kindly supplied by Farrar Natural Stone.
The garden also included a Cupid's seat with a view of the garden, a kissing gate and a love pavilion, draped with cloth panels to create a contemporary, semi-enclosed pergola.
Jane Buxey, Stone Federation Director, who attended the press day said "Stone Federation was delighted to be involved in such a worthwhile project. It is lovely to see the beautiful results that natural stone can achieve, together with the wood and flowers".
Colin Goble, President of Stone Federation, also praised the garden and congratulated Tommy and Kirsty who were awarded a silver medal for their efforts.
Jane Buxey added "thanks are given to Albion Stone Plc, Stone Productions Ltd and Nina Bilby for all their efforts in this project and how they all contributed to the ultimate success of the project".