Stone Federation are delighted to announce that Historic England are the sponsor for the Repair & Restoration category at the Natural Stone Awards 2018.
This is the second year that Historic England have supported the event, which last year saw 350 architects, designers, contractors, local authorities and natural stone industry firms.
The Repair & Restoration category is open to any project that involves the repair and restoration of natural stone on part of a building or the building as a whole.

Historic England are the public body that looks after England's historic environment. They champion historic places, helping people understand, value and care for them.
They also inspire public interest and enjoyment through education, campaigns, exhibitions and events and showcase the diversity of England's heritage and its relevance to all parts of our society.
Their experts help unlock the stories behind England's historic buildings and places, identify the heritage 'at risk' that should be protected, and advise on how best these places can be adapted and looked after in times of constant change.
The Federation are delighted to have the support of Historic England for the Natural Stone Awards as the two organisations have a strong working relationship, providing added value to one another through connection and information sharing.      
The Natural Stone Awards is a biennial event set up by Stone Federation and has established itself as the most prestigious awards event in the natural stone industry calendar.  The Awards celebrate and recognise the excellence of design in natural stone projects from across the industry.  Each year the Awards see work from throughout the British Isles entered across the various categories.
The Awards provide a chance for the industry to showcase the wide range of applications possible with natural stone and to demonstrate that it is the ideal building material, providing architects, designers and clients with a sustainable, durable and attractive end product.
The Natural Stone Awards are split into nine categories, each celebrating and showcasing a different aspect of the natural stone industry.
The aim is to showcase the versatility of this fantastic, natural material and in so doing to inspire architects, designers, clients and specifiers with unique ideas for their own projects.  The categories are New Build – Modern Style Stone Cladding, New Build – Traditional Style Stonemasonry, Repair & Restoration, Interiors, Landscaping, Craftsmanship, Carving, Lettering & Sculpture, Technology Innovation and Sustainability.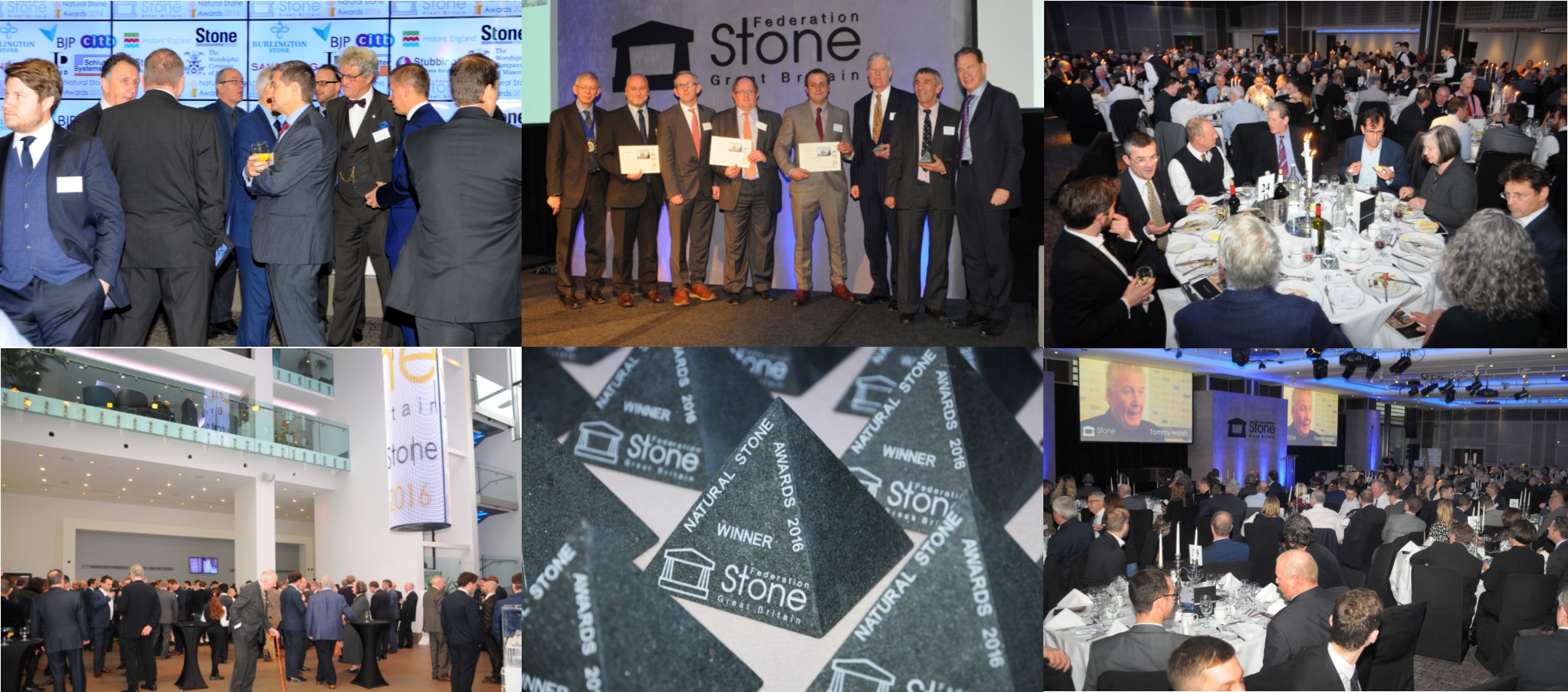 The Natural Stone Awards Ceremony is held in London on Friday 7th December, 2018, and will see 300 architects, designers, local authorities, contractors, specifiers, clients and natural stone firms gather for a day of celebrating the very best that the industry has to offer, as well taking advantage of the first-class networking opportunities. 
Booking is now open for the 2018 Natural Stone Awards Ceremony, which will be held on Friday 7th December in London.  To book your place(s), go to http://bit.ly/2yuxDo9.