The first was a magnificent 28 metre long snake that wound its way through the garden. The second was a 35 tonne natural rock stack ideal for children to scramble over and incorporating a secret den inside.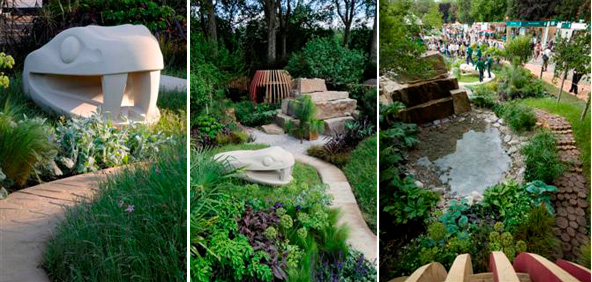 The block was extracted from its UK quarry operations in Derbyshire and was selected to help keep the overall carbon footprint of the space to a minimum. The garden received a Silver Medal from the RHS.  
 NATURAL STONE SNAKE FACTS
HEIGHT:
Head 1.2 metres (including hidden base) lowering to 0.35 metres along the body
LENGTH:
28 metres (uncoiled)
WEIGHT:
Approximately 25 tonnes
STONE:
Marshalls UK Sandstone
Sculpture Time:
Four Months
INSPIRATION:
 The snake has been inspired from the children?s ideas generated at the Marshalls Chelsea Project Workshops. Many of the drawings from these sessions had a connection with animals and fantastical creatures. Ian Dexter has translated these to create a one mythical like monster snake which dominates the garden's entrance to the wonderland beyond. 
SCULPTOR:
Michael Disley has had a long and lasting relationship with Marshalls. His outdoor studio has been situated in the company's West Yorkshire Appleton Quarry for several years and is a more than natural place to call home for this renowned stone artist. Many of his pieces are site specific, humorous & easily understood. His work can be found all over the UK, as well as Zimbabwe and Japan to name a few. This new commission has been a slight departure away from this work with its mesmeric and intimidating presence.
NATURAL STONE ROCK STACK
HEIGHT:
2.2 metres
LENGTH:
3 metres x 3.5 metres
WEIGHT:
Approximately 35 tonnes
STONE:
Marshalls UK Sandstone
Construction Time:
Three Months
INSPIRATION:
The Rock Stack was developed from several ideas to promote energetic play. It can be entered from the front or side via a secret tunnel under a meadow turf mound. It is the ideal feature to climb and scramble over in creative play. A hidden underground stream also cascades down one side to feed a shallow pool. 
Designed & Built by:
Ian Dexter was instrumental in designing this organic climbing frame for the garden. It was then constructed by Michael Fairly, a rock structure specialist, who handpicked the boulders especially for the feature from a Marshalls UK Quarry. Hidden mortar joints cut in to the stone stabilise the stack for rigorous play.