Bomber Command had the task of attacking German military targets and industries connected to the NAZI war effort during the Second World War. Despite their appalling losses, the airmen of Bomber Command were never given a campaign medal for their vital contribution to victory.
The memorial, which is due to be completed in 2012 ahead of the Queen's Jubilee celebrations, has been designed by Architect Liam O'Connor, who is best known for the Armed Forces Memorial in Staffordshire.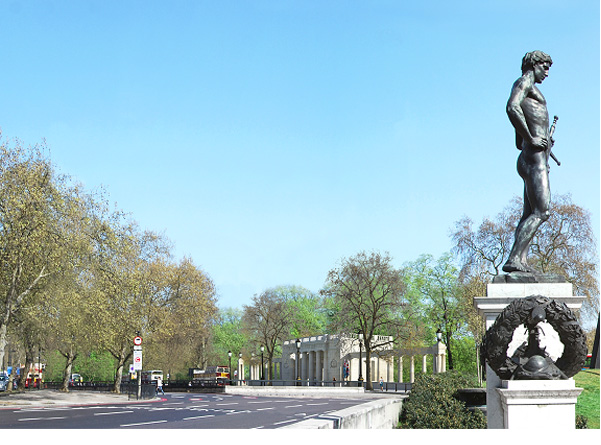 The memorial will be built to be modern, yet classical, in Portland Stone. At its heart will be the bronze sculptures of the aircrew. Within the memorial, the space is open to the sky with an opening designed to allow light to fall directly onto the aircrew.  The sculpture will be set on a 1.5 metre black basalt plinth. The height of the plinth and the scale of the sculpture as a whole means that visitors will always see the profile of the figure against the sky above them, day and night – thus rendering that section of the sky powerfully symbolic for the memorial.
The foundation stone for the memorial was laid in Green Park, London on 4th May 2011
Bomber Command veterans were joined at the foundation stone-laying ceremony by the Duke of Gloucester and Marshal of the Royal Air Force Sir Michael Beetham, himself a wartime Lancaster pilot and the President of the Bomber Command Association.  To mark the occasion a service was conducted by the Venerable (Air Vice-Marshal) Ray Pentland, Chaplain-in-Chief of the RAF, andincluded a reading by Chief of the Air Staff, Air Chief Marshal Sir Stephen Dalton.  The service ended with a spectacular flypast by the Battle of Britain Memorial Flight Lancaster bomber aircraft.
Although work has started on the national memorial, a further £1.5 million will be needed for the upkeep of the monument in perpetuity.  A gala dinner was held on 8th November 2011 and was hoping to go a long way to finishing off the fund-raising.  The highlight of the evening was the chance to bid for a flight on one of the last remaining Lancaster bombers. The successful bidder and a friend will be taken to Canada, where they will be treated to a flight in one of only two airworthy Lancasters in the world. The other belongs to the Battle of Britain Memorial Flight based at RAF Coningsby, Lincs.
Albion Stone are supplying 360m³ of Portland Jordans Basebed & Portland Jordans Whitbed stones.
This project involved quarrying and mining some of the largest stones ever extracted from Portland. Some of the slabs reach sizes of 2.87m x 1.106m. Albion Stone was selected for its ability to provide large blocks of a consistent high quality.  The stonework contractor is S McConnell and Sons, who have used their stone expertise to create an impressive portfolio of showpieces around the world.