Modern Practical Masonry by E.G. Warland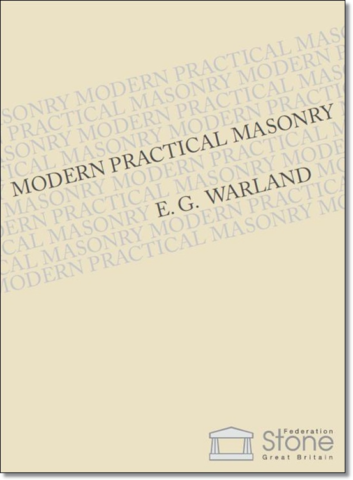 Modern Practical Masonry by E.G Warland is a classic and remains one of the finest books ever published on stone masonry. It is particularly valuable for its treatment of geometry detailing and setting out. It is also a valuable guide to the methods of masonry construction used up to the middle of this century.
The book, which was first published in 1929 and lastly in 1953, aims to increase the craft knowledge amongst masonry apprentices and is for the assistance of all who are actively connected with architectural and civil engineering masonry construction.
This work is the result of the author's practical experience in the various branches of the craft, combined with several years of comprehensive teaching of the subject. The writer has endeavoured to explain in a direct and simple manner the art of modern practical masonry and to illustrate by means of clear line drawings and photographs, the adaptation of masonry construction to suit modern building techniques.
The information contained in the publication should also be of assistance to architects, structural engineers, civil engineers, surveyors, builders, building technicians and teachers of building subjects.
Price: This paperback edition is available at the highly competitive price of £35.00 (£25.00 for Stone Federation members) and includes free postage and packaging (postage charge for overseas).
A discount of 5% is offered for orders of 5-9 copies and a discount of 10% is offered for 10 or more copies.
Please note that our publications are not available to companies who could be members of Stone Federation but are not.

Modern Practical Masonry by E.G. Warland

Back to publications