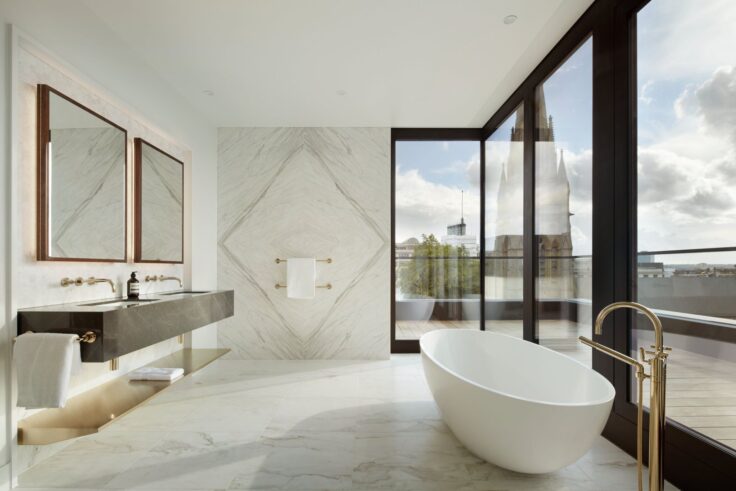 By Maria Cheung, Head of Interior Design at Squire & Partners
We have long celebrated the virtues of natural stone and have used it in a myriad of forms in our designs from interiors to exteriors, exquisite objects to grand sculptures as well as everything from accents to centre pieces composed with and within other materials. We are drawn to it as a natural material where, by definition, each piece is unique and tells a story, capturing a moment in time from the place it once lay within the bedrock of our world.
Natural stone has extraordinary versatility. It can be used in different formats and with many different finishes applied, which we explored with our 'Stone Tapestry' installation for the Surface Design Shows in 2020 and 2022. Created in collaboration with Stone Federation as an explorative piece, our bespoke installation showcased the enormous diversity of applications by finishing numerous stones in different ways – from polished and honed to sand-blasted and leathered, as well as fine fluting and 'pillow' carving. Through these different techniques, unexpected qualities and textures were revealed in each stone. Colours were heightened or muted through polishing and honing. Natural veins were exaggerated through leathering. The hardness of each stone was exposed through its ability to hold together with fine fluted cuts and their softness expressed through gentle curved forms. The result was a tapestry of beguiling textures, colours and patterns all made of stone.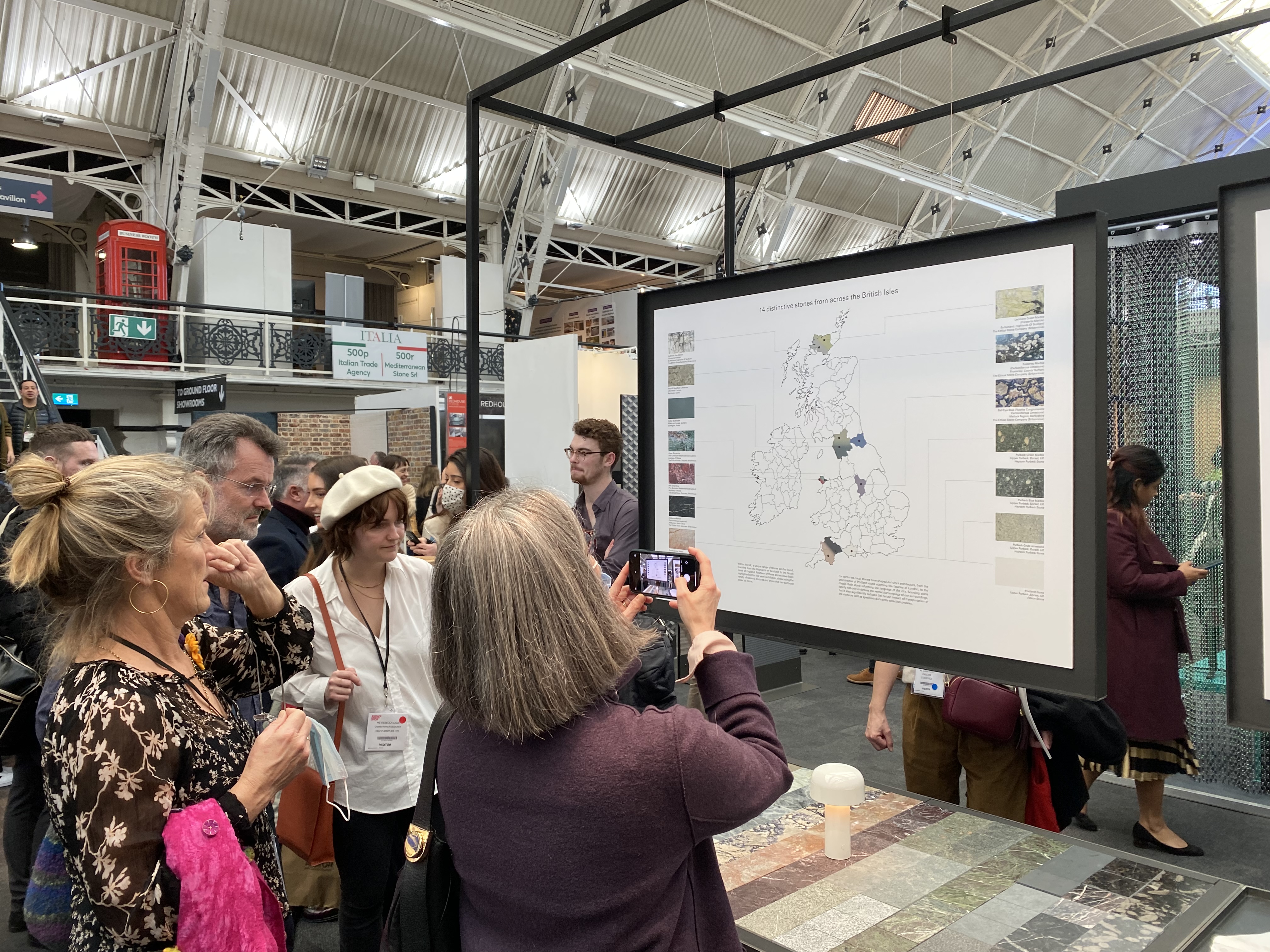 With its phenomenal diversity in compositions, colours and intensity, stone offers designers an immense palette to create different ambiences for internal finishes. From translucent onyx that glows when backlit, earthy Cumbrian green slates that evoke a sense of calming nature, to the striking red and orange veins of Noir Saint Laurent which adds drama, and the universal elegance of Statuario marble – all this proves there really is a stone for every mood. This variety is further increased when we use stone in different formats. From the dramatic book matching of large slabs, impressively stacked vein matching that amplifies layers of different minerals, down to small format mosaics which can transform contrasting and distinctive veins into soft colour variations within a surface. Using the same stone in a range of sizes can also provide a range of experiences whilst keeping the palette coherent within one space.
The uniqueness and versatility of natural stone inspire infinite interior schemes. Stone can be used as a device to create a sense of individuality in apartments with identical layouts; it can be finished in different ways for application as an appropriate finish for both walls and floors, resulting in an uninterrupted and cohesive space; the aesthetic quality of veined stones can also add a sense of movement and nature to a project.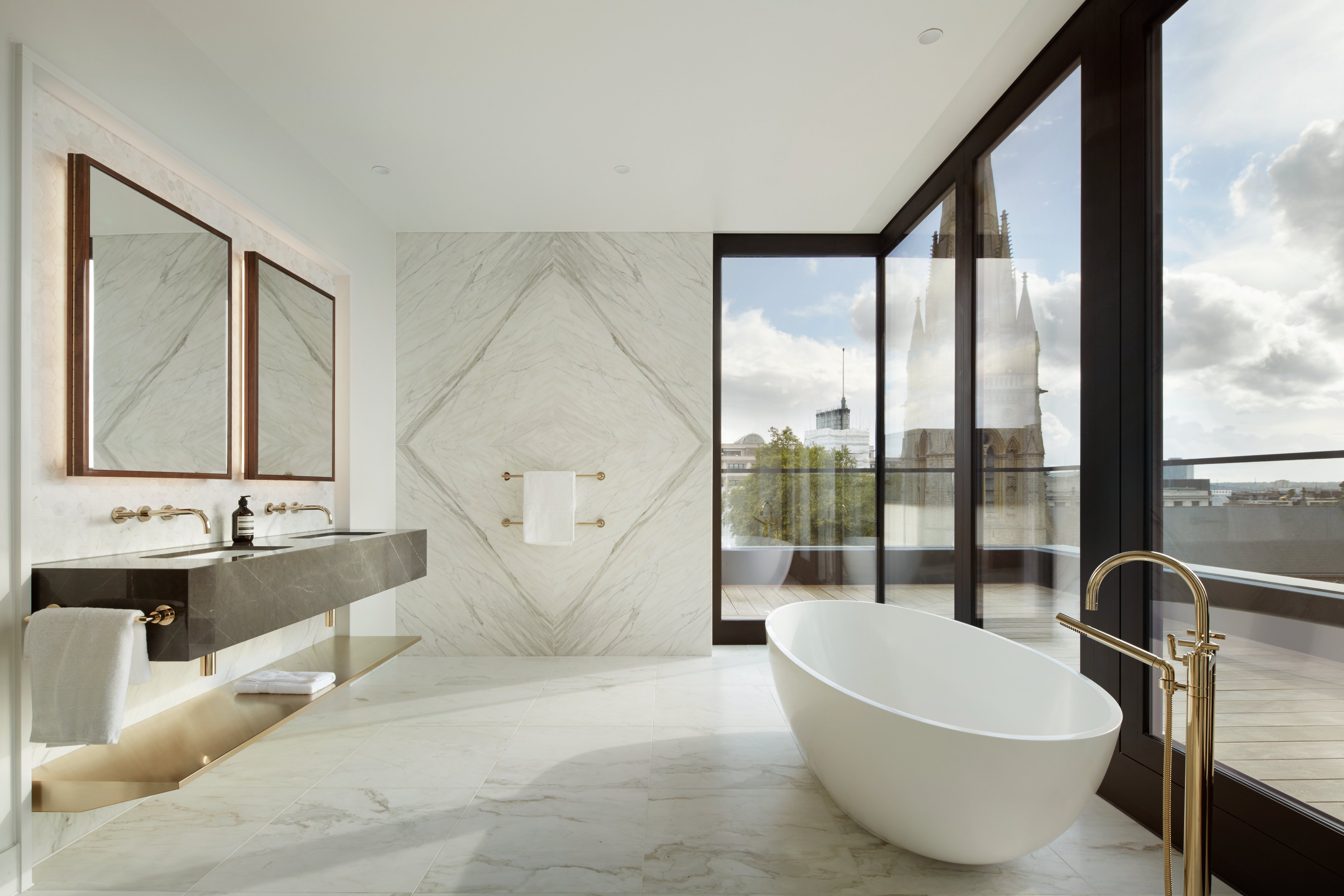 At Lancer Square, our recently completed residential-led development in Kensington, we used natural stones throughout in polished and honed finishes to reinforce the prestige and quality of the scheme. We used a small selection of stones in different combinations together with warm walnut veneers in joinery, and oak flooring accented with champagne bronze trims, detailing and ironmongery.
At the reception and lift lobbies, Fume Emperador marble was used in the borders of the White Emperador floor to provide contrast, as well as high skirtings, stepped architraves and lift reveals, with a polished finish to add contemporary yet classical features inspired by the heritage interiors of Kensington Palace.
Within the primary bathrooms, we used beautiful Calacatta Oro to create drama in large formats on several feature walls, as well as intimacy in small hexagonal mosaics around the vanity splashback. The lively veining found in this stone evokes a feeling of nature throughout the interiors and is expanded upon with the views towards Kensington Gardens and the development's new garden square. In the penthouses, we used large-format book-matched marble to create an impressive backdrop that complemented the scenery seen through the floor-to-ceiling glazing. The guest bathrooms were treated with flamboyance and decadence through the feature of a long vanity in polished Portorro Oro marble, whilst the secondary bathrooms were clad in calming layers of Silk Georgette marble.
In a time when we have to be mindful of our environmental impact and what we choose to specify, designers can be inspirational in their innovative use of materials. Natural stone can be incredibly sustainable if sourced locally, used in standardised formats which minimise material wastage, and with careful consideration of how it is installed to further extend its remarkable lifespan. During our research on the topic of sustainability for Stone Tapestry 2022, we learnt of a client who collects stone as prized pieces of artwork. She would specify that her stones are installed with thoughtful framing and hung so that they can be removed and rehung in other locations as she moved from one property to another.
During this process, we learned about some of the impressive, lesser-known natural stones that can be sourced within the British Isles. From the rich reds and greens of the robust Serpentine peridotite stone found in Anglesey to the rare and vivid blue colouration of the Ball Eye Blue stone sourced in Derbyshire, and the delicate yellow and grey veins of the Ledmore marble mined in Sutherland and The Isle of Skye. Using locally sourced stones not only reduces transport costs but relates the design to the aesthetic of the area.
Understanding how selected stone is extracted, the impact on the local environment as well as the welfare of the workers in the quarries need to be part of the selection process. We can rely on bodies such as the Ethical Stone Register and be inspired by projects such as Honister Slate Mine and Tout Quarry, which show that former quarries can be converted into wonderful nature reserves and outdoor adventure destinations, offering employment in the local area and new landscapes for visitors to enjoy.
Natural stone is one of our most versatile materials that enriches our buildings in an unending variety of ways. Perhaps the most inspiring interiors we seek to create are those which use beautiful materials with a sustainable narrative – starting at their sourcing and extraction through to fabrication and installation – as well as preserving a wealth of possibilities beyond its initial use.