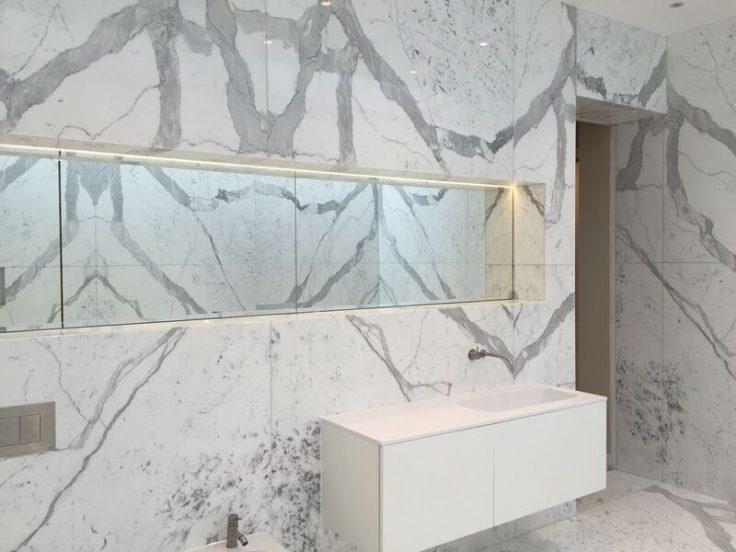 The true mark of any style, design or brand that can be given the much sought after accolade of achieving longevity is to be imitated
It's often part of a desire in businesses to achieve quick success by emulating part of what makes the original unique, including its long-standing reputation
The world of design and materials is no different
Natural stone has been involved with the world of architecture and interior design for centuries, achieving a reputation as both a material of aspiration and utility, from granite-paved streets taking the footfall of all walks of life, to the exquisite marbles found in the palaces of Kings and the bathrooms of the famous
One of the trends that we are seeing in the world of design at the moment is that of 'stone-effect' products, particularly ceramic or porcelain tiles
It is of course, as the cliché goes, a form of flattery to emulate, however, there is the danger of misinformation in the emulation
Natural stone is, by definition, a natural product, formed in the earth over many thousands of years
As the trade association for the natural stone industry, we are passionate about both the material and the correct supply of that material. The CE Marking legislation enshrined in law the requirement for suppliers to provide their customers with the true name of the materials they are selling, not just a marketing name
It's this same concept of transparency, of knowing what the product is and what it isn't, that drives our desire to ensure that customers know that 'stone-effect' products are just that, an imitation, but not the real thing
Many of the leading 'stone-effect' products take advantage of the aesthetics of popular marbles, granites and slates, using prints and textures that give the appearance of a natural material
We would encourage the industry to provide the correct information so that their customers really understand the product and know the difference between a natural and man-made material.
What does natural stone offer the customer?
Texture – from the fossils found in Portland stone to the natural, subtle layers of slate, texture is a strong selling point for using natural in interior spaces. The three-dimensional dynamic that a feature wall of unpolished, naturally textured stone can provide is stunning and definitely a trend that is on the increase. Unlike many other materials, the same piece of stone can be finished in a number of ways to provide the texture best suited to the application. Flamed, honed, blasted, sanded, polished and line textured are all finishes that can give the same piece of stone a very different visual impact.
Impact – the geological striations and natural colour streaks found in marble create a striking aesthetic utilised across the interiors world, from hotel lobbies and internal walls through to floors and countertops. In a market where individuality is key, the unique visuals that natural stone can create are striking, bringing a strong identity to interior spaces of all description.
Durability – as a result of the geological processes, the thousands upon thousands of years of compression, natural stone is an incredibly hard-wearing material. You need only look at the centuries-old, limestone-clad buildings of London, granite-paved streets of Aberdeen or the Clipsham rich architecture of Oxford to see evidence of the longevity of this natural material. This longevity is also where natural stone holds its own in terms of value. While some 'stone-effect' materials may initially appear to be cheaper, that is often not the case when the costing is based on price per year and on-going maintenance where natural stone again scores highly.
So we would encourage you to reconsider natural stone, with its durability and uniqueness, wide natural palette and value for money.
The question is simple: why settle for an imitation when the real deal has so much to offer in both design potential and value for money?
To start your search for a natural stone supplier, go to our website www.stonefed.org.uk, or contact us at enquiries@stonefed.org.uk.